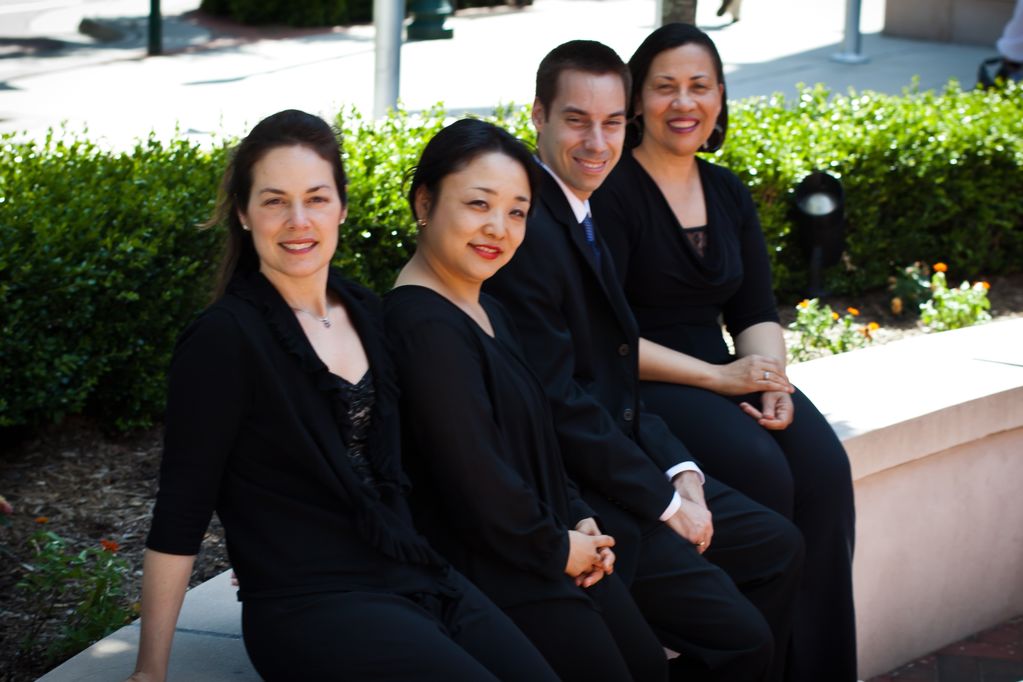 photo by Norbrian Ronase
Welcome to Ambrosia Quartet's home on the web!

In 2002, four friends decided to join forces to explore their collective passion for chamber music. Thus, the Ambrosia Quartet was formed. This dynamic ensemble will thrill you with their interpretations of the very best music written for string quartet, from classical favorites to the most recent compositions of celebrated contemporary composers. These talented individuals all won seats with the Virginia Symphony Orchestra, but their backgrounds are as diverse as the music they play. Violinists
Simon Lapointe
and
Mayu Cipriano
hail from Quebec, Canada and Tokyo, Japan respectively; violist
Beverly Kane Baker
grew up locally in Hampton, and cellist
Rebecca Gilmore
came to the area from Charlotte, North Carolina. Their resumes collectively represent many years of study at the very best conservatories, including the Peabody Conservatory of Music, Indiana and Rice universities and The Juilliard School.
In more than a decade of recitals, The Ambrosia Quartet has explored the chamber music of Haydn, Hailstork and Tchaikovsky in
New Beginnings
, Glazunov, Shostakovich and Borodin in
A Russian Celebration
, and Beethoven, Shostakovich and Brahms in the prestigious
Feldman Chamber Series
program. They are not limited solely to quartets, frequently performing trios or participating in other ensembles. These friends are truly bonded together by their mutual love of the very best chamber music of any style, and they strive to reach the most diverse audiences possible. They have been heard in churches and museums just as readily as in fine concert halls, mostly in the United States, but also internationally. Look for more news about international travel plans, as well as a forthcoming music video.
Some might think it no surprise that an excellent orchestra would bring forth an excellent string quartet, but this is not always true. Chamber music ensembles require a rare chemistry to elevate the playing to a special realm. The Ambrosia Quartet has that chemistry and achieves that elevation. In classical mythology, ambrosia is the food of the gods: this quartet exists to share ambrosia with you.
The Ambrosians did well by Dohnanyi. Rebecca Gilmore's cello playing was achingly beautiful, and violist Jennifer Snyder offers a consistent feeling of purpose. The motivic developments were intelligently brought out; the intonation was quite good, and the entire piece conveyed a real sense of devotion. The solo lines were passionately rendered by all.
Reginald Barnes of Port Folio Weekly October 2003